Kinky decided that today was the day to release his 'tax plan' which wasn't so much a 'tax plan' as it was a handout from the state from one group to another group of taxpayers. Texas currently has a surplus of $4.3 billion at the STATE level. State taxes include the cigarette tax, vehicle registration and (everyone's favorite) taxes on gasoline just to name a few. You may have noticed that PROPERTY TAXES aren't in that group. That's because those are collected and set by LOCAL governments, not the State. As Tom Dynia over at KABBlog points out, Kinky wants to give a massive amount of money to property tax owners as a 'rebate' on money they never paid.
Let's forget for a moment that it does nothing for CHIP or public education. Let's just focus on the fact that when you rebate taxes, it's always best to pay the rebate to people who actually, you know, PAID THE FUCKING TAXES.
A friend sent me a bizarre invite for a birthday party…

Friends of Homer the Homeless Goose would be honored by your presence at
Homer's 18th Birthday Bash
Saturday. April 1st
2:00 —4:00 pm
Town Lake at Auditorium Shores
Click here to find out more about Homer. I won't be going (I didn't see the words FREE and BAR on the invite, did you?) so if you do… well, you're kind of a tard. Just for illustrative purposes, here's a pic of Homer with some dirty hippy.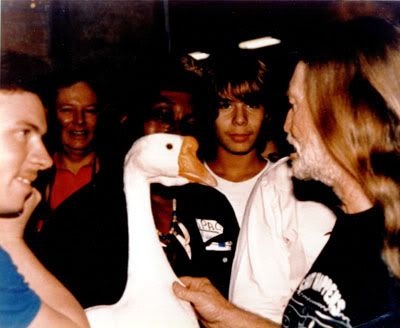 On Tuesday, Conversations with Michael Eisner premiered to an audience of 95,000. Not 95,000 households, mind you. 95,000 PEOPLE. Good show, Mikey.
His inaugural guest was Martha Stewart, who I'd love to see interviewed by someone who doesn't understand the concept of 250 threadcount (or greater) bed linens. Seriously, I'm a HUGE fan of grossly uncomfortable situations and the image of Martha having to sit and talk to someone who probably has a can of SPAM in their pantry is (at least to me) very funny in that 'Oh-I-Just-Ran-Over-Your-Kid's-Cat-And-You-Saw-Me-Sorry-About-That' kind of way.
I don't remember how this came to me today but click the link and tell me what you think about a product with this description

Photodynamic ultrasonic skin softening, photodynamic ultrasonic fat dissolving and weight reducing, photodynamic galvanic skin tensioning, ultrasonic wave cosmetic shovel and skin cleaning, photodynamic galvanic introduction