Even though there's very little cheap oil left, that didn't stop the Republican Pander Express from making it's way to Dallas to talk about their brill plan to deal with energy costs… drill. Lookit, there isn't enough in the ground that you can bring up in any cost effective way to reduce oil prices. You've got to stop speculation, then you have to develop real alternatives.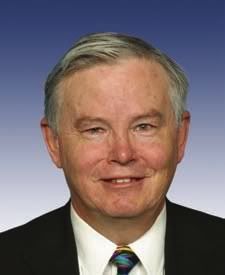 There is NOT some giant, trillion barrel reserve under the Rockies. Or ANWR. Or the Gulf. Oh sure, there's a ton of oil down there but it's expensive to bring up. Too expensive by far to help us out. So quit lying to people, Joe Barton. And lose some weight because you're getting hella fat. Assweavil.
Hey MSM… ask Kay Granger what the per barrel cost will be to produce oil out of ANWR and how much it could realistically produce in a year. Watch the steam come out of her ears. Yes, Reporters, things really are that goddamn simple. Ask any analyst. Better yet, since you won't believe my blogging ass, ask Matt Simmons.
WP has more including information on Burgess' little Energy Expo which just sounds precious. If you like pandering bullshit and lies. Someone go and tell us if he actually says prices will fall immediately.
Apparently, the R's had themselves an interesting vendor at their little convention.
And finally, there's this from our moribund friends on the right. Love y'all, but y'all have to understand. People hate you. Seriously, I love my Republican friends, mostly because even they hate the R electeds. Especially 39%.
Hava Goodun!